Vietnam's northernmost province, Hà Giang, has stunning landscapes, colorful ethnic minorities and lively Sunday markets. The most thrilling way to roam around the little-visited region is by a legendary Minsk motorbike.
Text and photographs by Ville Palonen
Tyres screech against the tarmac as I bring my motorcycle to a sudden stop. I make a U-turn and head towards a turnoff which I almost missed. A boy, not more than ten years old, is standing at the junction. He's probably coming from school, his bicycle basket filled with books.
For a moment the boy stares at me – a blond-bearded creature riding an ancient smoke-puffing motorbike – with horror in his eyes. Then he springs into action: he drops his bike and runs for his dear life. Schoolbooks spread in the middle of the road.
Hà Giang province is one of the most spectacular regions in Vietnam.
"It's not the first time this happens", laughs Manh Hùng, my motorbike guide. "Kids living in these rural villages don't see foreigners so often".
We're on a week-long motorbike trip around Hà Giang. The province, located in the northernmost part of Vietnam, is one of the most spectacular – but least visited – regions in the country. A road trip around the province is considered a once-in-a-lifetime adventure.
Hà Giang's landscape is dominated by misty mountains. Dark karst hills rise from lush valley floors like spines of an enormous dragon. Villages and dusty towns, squeezed in valleys, are connected only by pot-holed roads that snake over mountain passes.
Slopes are blanketed with hundreds of years old rice terraces, where farmers work with water buffaloes. On Sundays everybody congregates to the nearest town. A market day with colorfully dressed ethnic minorities, hawking handicrafts and haggling over livestock, is a sight not to be missed.
Our route takes us to remote dirt roads just a stone's throw from the Chinese border. My Vietnamese guide, Hùng, prefers adventurous side tracks, and I want to see the authentic countryside. We both agree that towns are boring.
But before steering off the beaten track we'll make an exception and stop for one of the most popular tourist sights in all of north Vietnam: Bac Ha Sunday market.
Flower power
A black-haired piglet screams for his life as two sturdy ladies stuff him into a canvas sack. The wriggling package is tied to a moped rack. Nobody pays any attention; the crowd is focused on other animals for sale. Men circle around brawny water buffaloes, worth at least half a year's income. Chicken with strapped feet are weighted, more screaming pigs bagged.
Ladies dressed in tribal costumes sit alongside a small square, cute puppies playing at their feet. Hùng explains that they're sold for pets, not for food. "Usually tribal people don't eat dogs, but we Vietnamese eat everything: snakes, dogs, and of course cats."
Bac Ha Sunday market is a must-see attraction for every visitor to north Vietnam. It's heart is the livestock market – buffaloes, pigs, horses, birds, lizards and even grasshoppers are for sale – but even a better reason to visit are the people.
North Vietnam has dozens of ethnic minorities who have managed to preserve their traditions.
North Vietnam has dozens of ethnic minorities who have managed to preserve their traditions. Fortunately, the Communist Party hasn't tried to Vietnamize them the same way Chinese have done across the border in Yunnan.
The minorities live in remote mountain villages farming rice and keeping animals. They visit the towns crowded by ethnic Vietnamese usually on market days. Many H'mong, Dao and Tay people, especially women, still wear handwoven and beautifully embroidered hemp clothes. The most striking costumes are worn by Flower H'mong.
Even though Hùng has warned me about touristy atmosphere, I enjoy the market action. There's a souvenier area and a couple of dozen camera-touting Westerners (larger tourist groups arrive around lunchtime), but most of the people are locals. They have come to town to sell and buy farming tools, kids clothes, plastic canisters filled with rice wine, and large rolls of tobacco.
After strolling around for couple of hours we squeeze into a busy outdoor hawker stall and order breakfast. The only item on the menu is rice noodle soup called pho.
Pho is a classic breakfast soup and it's sold everywhere in Vietnam for less than a euro. A strong broth is stewed overnight, and noodles and slices of crispy pork are added just before serving. We throw in some chili and a handful of fresh mint leaves, and squeeze a lime on top of everything. The taste is divine.
When our bowls are empty it's time to hit the road again.
Mule of the mountains
The best thing about riding a motorbike is that you can go practically anywhere. Hùng proves the point by leading me to a narrow dirt road. After a river crossing and a few kilometers of gravel and larger stones the track becomes bright brown mud, not unlike soft chocolate pudding. The mess is 30 centimeters deep and covers the track for hundreds of meters. On my travels to dozens of countries I haven't experienced a road like this.
When I think the worst is over a real test of men and machines only begins. We turn to a narrow stone road leading up a hillside and towards a mountain pass somewhere in the clouds. The road – or rather a path – is so steep that our bikes lose torque and we need to dismount. We reach the hilltop walking alongside our bikes, partly pushing and partly riding them. The Minsk might be legendary, but it's not almighty.
The Minsk might be legendary, but it's not almighty.
"I could buy a powerful 4-stroke dirt bike, but those modern machines don't mean anything to me", says Hùng. "I love the Minsk, every part of it. It has a history."
The Minsk certainly has character. The original version is a serious-looking retro motorcycle. It's joked to have such a simple design that even a monkey with a hammer and a stone could fix it. This testosterone-pumped hunk of steel was designed in Belarus in Soviet times for the harsh conditions of Ural mountains and Siberia. The world may have changed, but this workhorse still rules the mountains and hills of Vietnam.
"Large wheels are great for off-road, and the bike is surprisingly comfortable to ride", praises Hùng. "In the countryside the Minsk is master of transportation."
Into the heart of darkness
Hùng, 41, is a friendly and easy going fellow (his favourite phrase is a lazy "it's ookaayy") with a taste for an adventure. He began renting motorbikes and organizing guided trips in the end of 1990's. Hùng has taken travelers across the border to Laos and for 3-week-long journeys from Sapa to Saigon, but most foreigners want to experience the same as me: the untamed mountain roads along the Chinese border.
Hùng is an expert mechanic so his fleet of 10 Minsks are tuned according to his personal taste: he has stripped them down to the bare minimum. There's no ignition key, nor gauges for speed or fuel. Hùng has even removed the horn because he hates people who honk all the time (although a sound signal would come handy for warning kids who play in the middle of the road).
There's no ignition key, nor gauges for speed or fuel. Hùng has even removed the horn.
But the most essential part missing is a proper headlight.
In Vietnam everybody tries to avoid traveling at night on mountain roads because it's very slow and potentially dangerous. But after spending the whole morning at Bac Ha market and stopping countless times for photographs, the darkness catches us by surprise. We're still dozens of kilometers from our destination.
The dark road snaking down a mountainside feels endless. Drizzle makes the asphalt slippery, and in every hairpin curve we have to reduce our speed to walking pace.
Our headlights get their power from an antique dynamo system, so when we slow down the light practically dies out. A few times we need to literally stop because we're not able to see where the road ends and a vertical drop to dark jungle begins. I take out my tiny headlamp and strap it around my helmet. Maybe the lorries that struggle uphill with their blinding headlights won't run us over.
After two never-ending hours we finally reach a highway. My brake hand is aching and my bottom is so stiff that I can't tell where my butt ends and the saddle begins.
My bottom is so stiff that I can't tell where my butt ends and the saddle begins.
Our overnight stop is a farmhouse in the middle of rice paddies. It's built on stilts and has a spartan decor: floor made of bamboo strips, mosquito nets dividing the sleeping quarters, and a portrait of Ho Chi Minh hanging on the wall. The only furniture is a fridge. In the back, next to a hole-in-the-floor toilet, is a pigsty.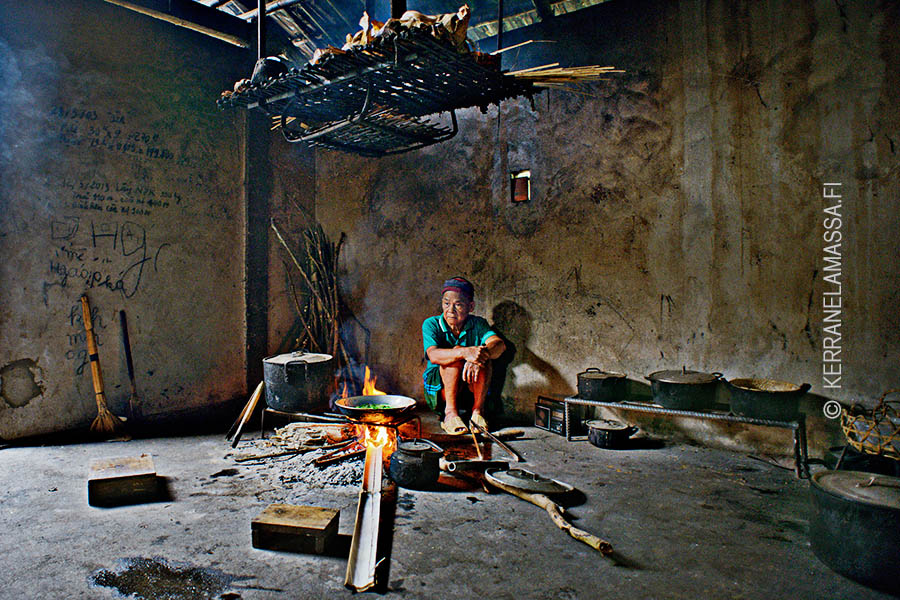 But Hùng knows the friendly family well and staying at a local home is an unforgettable experience. We eat the dinner sitting on the floor. Steamed vegetables and fried pork are washed down with numerous small cups of homemade rice wine.
When we retire to our makeshift beds (the mattress is thinner than the blanket) Hùng falls asleep instantly. His snoring reminds of the manly roar of a Minsk.
Easy riding
Mountain roads are exhilarating and exciting. There's not knowing what danger might lurk behind the next curve: a landslide, a group of playing kids, or maybe a one-ton water buffalo strolling in the middle of the road? Sometimes thick mist reduces visibility down to a couple of dozen meters, and more than often chicken and geese push their luck by running across the road in the last moment.
Riding a motorbike is a bit risky but also rewarding. When we pass a tiny hamlet children start screaming and waving madly like we were participants of an off-road Dakar Rally.
In Vietnam anything can and will be transported by two-wheelers.
Families harvest rice on roadside fields and Flower H'mong women with their colorful dresses return from local markets. A moped with a cage full of miserable dogs on their way to a restaurant zips by. In Vietnam anything can and will be transported by two-wheelers. It's not unusual to see a family of five or two refrigerators on a single scooter. There's even a popular postcard portraying a water buffalo on a moped rack.
In the northernmost corner of Hà Giang – and the whole country – the landscape turns even more dramatic. 20-kilometer stretch between Dong Van and Meo Vac is praised to be the most beautiful road in Vietnam. It's also the turning point of our 1000-kilometer round trip.
We ride slowly along the road snaking on a mountainside, stopping for photos every kilometer or so. The view is airy: rocky cliff drops almost vertically hundreds of meters down to a roaring river.
Every valley has a village, every village has a shop, and every shop is also a gasoline station.
On a downhill my bike dies. I get a hill start but the same happens again. When we reach the bottom of a small valley it's clear that I've ran out of gas.
Fortunately the help is near. Every valley has a village, every village has a shop, and every shop is also a gasoline station because they sell fuel in one-liter plastic bottles. I empty a few of them into my tank and begin the return trip back to Sapa.
Hùng wants us to visit another friend of his. We reach a small roadside village just before the sunset. Hùng leads me to a wooden house next to a main square which has been transformed to a badminton field.
Mr Binh welcomes us cheerfully. The 70-year-old gentleman sporting a black beret is in a good mood: his wife has left to the town for a wedding party, so Binh has invited his friends for an evening of gambling and corn wine.
Binh's courtyard turns out to be a serious distillery. Fermented corn mash is boiled in a massive metal tank, and the (rather tasty) moonshine is stored in plastic canisters that occupy half of the kitchen.
We toast with fresh corn wine before, during and after the dinner. Then we let the happy mahjong players carry on their business and walk to the only motel in the village. Our 10 dollar room has wireless internet but no clean bedsheets.
Rules of traffic
On the final day, just a couple of hours before returning to Sapa, I decide to test how fast my Minsk goes. On a short stretch of a 2-lane motorway near Lao Cai I open it up and fly like the wind. There's no speedometer but judging by the cloud of black smoke I leave behind I must be doing at least 80 kilometers per hour.
I'm forced to slow down when two trucks block the road in front of me. After failing to slip by from the left I decide to take my chances. I wrench the gas grip and take the trucks over by the shoulder of the road.
When we stop for our last noodle soup together Hùng scolds me about my reckless driving: "Taking over from the right is so dangerous! You must tell that to your readers."
Even the most remote roads of Vietnam seem have a traffic rule or two.
PRACTICAL INFORMATION
The best place to start a motorbike trip is Sapa, a small tourist town located near the Chinese border. You can reach Sapa by a night train (30-40€) from Hanoi to Lao Cai where you continue by a minibus (2,5€). If you book a room beforehand your guesthouse can arrange train tickets and pick-up service.
Sapa, located in 1500 meters altitude and surrounded by hundreds of rice terraces, is a popular hiking destination. Most visitors make an overnight trek to nearby H'mong villages with a local guide. A superb and highly recommended trekking agency is Sapa Sisters, where a 3-day trek costs about 100€.
Accommodation in North Vietnam is cheap: a double room in a simple guesthouse sets you back 10 euros. Motels in the countryside and small towns cost about the same. One of the most memorable experiences is to sleep in a homestay with a local family (usually less than 10€ including meals). A great place to stay in Bac Ha is friendly Bac Ha Homestay (12€).
Sapa has countless places to rent a modern scooter (5€ per day), but if you want to ride an authentic Minsk motorbike you should contact Manh Hùng ([email protected], [email protected]). Rental costs 15€ per day and guiding services 40€ per day. You should have a driving license (car license will do just fine) and a travel insurance that covers accidents.
A return trip from Sapa to Meo Vac takes 5-7 days. An average daily distance is 150 kilometers depending on the road conditions and weather. The best time for a motorbike adventure is August-November when the temperature is 15-25 Celcius, depending on altitude. Weather is very local: when a mountain pass basks in sunshine it might be raining in the next valley. Buy rain clothes and wellingtons in Sapa for a couple of euros, and make sure your bags are waterproof.
Further reading: Sparring with Charlie (Christopher Hunt)